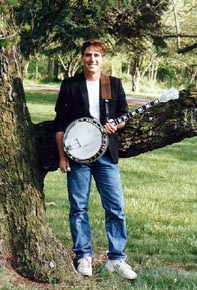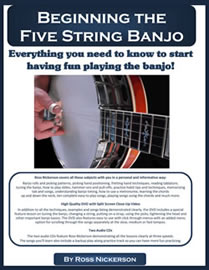 Beginning Banjo from Ross Nickerson.
Includes instruction on all the basics, songs, chords and loads of clear practical helpful to the point banjo lessons. The book is very comprehensive and includes two high quality audio CDs and two hour split screen DVD
More Information

---
Banjo Instruction Articles by Ross Nickerson
Newest to Oldest
How to Become a Good Banjo Player? 10 Steps to Success
Banjo Exercises and Workout /Left hand or fretting hand scales and exercises
Relaxing When You Play Banjo
Breaking away from tab and learning to play banjo without tablature
How to Play the Melody on 5-string Bluegrass Banjo
Instruction on How to Put a Banjo Capo on and when to use one
How to Play the Banjo with a Metronome
Improvising on the Banjo
Making the Best Use of Practice Time on Banjo
Single string technique -part one
Single String Technique -part two
What Banjo Roll Should I use?-part one
What Banjo Roll Should I Use?-part two
How Do I Improvise on the Banjo?
A Banjo Players Dream
IBMA From A Banjo Players Perspective

Banjo String Action Adjustment/Mike Munford Banjo Set-up
Mike Munford Banjo Set Up Advice/Changing Banjo Strings
Mike Munford Banjo Set Up Advice/The Nut
More Banjo Lesson articles by Ross Nickerson
Free banjo lessons from Ross Nickerson
---
More articles, tablature, Books, CDs, DVDs by Ross at
BanjoTeacher.com
---
BanjoTeacher.com Members site with more videos and lessons for banjo students.
View free Ross Nickerson lessons and performance videos
---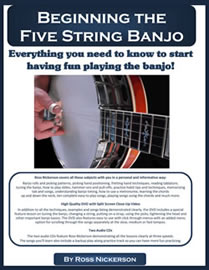 Songs you'll learn are:
Cripple Creek, Boil the Cabbage Down, Buffalo Gals, Tom Dooley, Long Journey Home, John Henry, Red River Valley, Blackberry Blossom, My Old Kentucky Home, Old Time Religion and more.
The book includes chord lessons, playing by the chords, banjo rolls, left hand positioning, timing exercises, text explanations and picture illustrations.
Proper Right and Left-hand technique is covered in detail along with many time saving practical tips.
More details
Wire bound Book and two CDs 29.95
---


Ross Nickerson's main teaching website Banjoteacher.com
---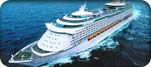 The Banjo Cruise
Annual 5-string Banjo Workshop cruise to the Caribbean
Click here for more details!
---


African Photo Safari and Banjo Workshop
Click here for more details
---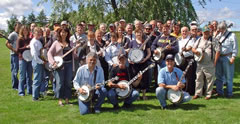 Nova Scotia Banjo Camp
details