Banjo player and Banjo teacher
Ross Nickerson's Website!
Visit RossNickerson.com for banjo lessons, instruction books, CDs, DVDs, free banjo tablature and the best banjo lessons online.  Ross has taught thousands how to play the banjo.
Ross Nickerson travels in the US, Canada, Europe, New Zealand, Australia and Africa.


Ross Nickerson  now featured on Renowned
Bluegrass Record Label Pinecastle Records

Book Ross Nickerson
Bullet Proof Productions
Call toll free 1-866-322-6567 or email
---
Newest release! Straight ahead banjo playing featuring Ross Nickerson and members of the band Blue Highway, Rob Ickes on Dobro, Shawn Lane, Mandolin and Fiddle, Tim Stafford, Guitar and Wayne Taylor, Bass.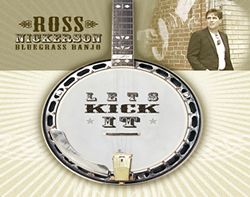 The CD was recorded and engineered in Nashville by  Scott Vestal and features fast tempos, explosive solos and some great new bluegrass music.
Listen to a clip below.

More Sound Clips and Details
Purchase this CD
---

Ross Nickerson featured in Banjo Newsletter

……… He teaches workshops all over North America, as well as Europe and Australia, and his latest CD release, "Let's Kick It," was recorded with renowned bluegrass band Blue Highway, raising his profile as a recording artist, as well.
Continue Reading
---
Ross Nickerson on Pinecastle Records
---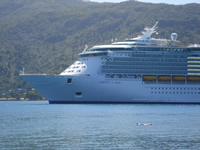 The Banjo Cruise Workshop Cruise to the Caribbean
Rooms Available for Night Jamming!
Banjo Rentals Available
Tailored Instruction and Private Mentoring
Read more about this years Banjo Cruise
---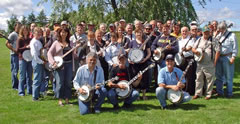 BanjoTeacher.com Nova Scotia |Banjo Camp
A 3 day teaching and jamming event in Halifax at Dalhousie University. Begins Friday later afternoon and conclude on Sunday afternoon with banjo workshop classes, jams, concerts and other activities.
More Details and to Register for this years camp
The Banjo Safari
Banjo Safari Adventure Details

More about Ross's banjo adventures