Banjo Video Lessons Online at RossNickerson.com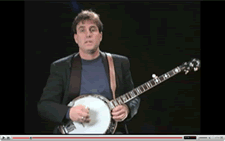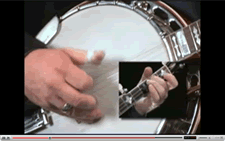 Streaming video banjo lessons from Ross Nickerson.
Recordings that teach you how to get off to a good start and learn correct 5-String Banjo technique.
Online Lesson Testimonials
Discounts on purchases of more than one lesson!
See a sample video
---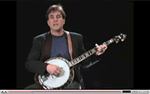 Learn from Ross Nickerson how to play banjo and improve your banjo picking with banjo lessons online with Ross Nickerson. These internet banjo lessons are designed make it easy to learn at home in the convenience of your own home and from a proven Banjo Instructor that you can trust and learn easily from.
You receive the video and the audio recordings of the songs played slow and fast, the tablature you can print out along with text instruction to help you with the lessons all included in the low price. They are done in streaming video and can be watched online indefinitely or downloaded with ease.
How it works:
After you pay for your lesson and press continue, you will be sent to a page with a link called Download Product Files. Click on the link and you will receive download instructions that include a link, username and password to access the webpages for the lessons you purchased. There you will be able to navigate to all the lesson pages and have the links to the video, mp3's, tablature, and text for the lessons. There will have simple instructions for you there and we provide support to be sure it all works for you. You can download the lessons right to your computer or simply save the link and keep returning to work on the lessons. The lessons do not expire and you will have lifetime access.
Thanks, Ross Nickerson
---
View a streaming video sample of Foggy Mountain Breakdown played fast.
The lessons also include a slower version and music.
…….I've gotten further with your FMB download than with any other form of instruction. Well done!
More Reviews
---
Learn Beginner Banjo Online Courses
See a sample video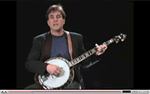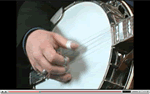 All the Beginner Banjo course options include in both the Book and Video a Banjo Basics section that that instructs you how to hold the banjo, put the picks on, tune your banjo, the parts on the banjo and how to read read tablature. Then you learn essential right and left hand techniques to get you started on the right foot and songs.
Beginner Lessons Option 1
1. Banjo Basics 2. Learn to Pick the Right Way 3. Left Hand Techniques 4. Learn to Slide, Pull-off and Hammer-on 5. Learn the song Cripple Creek.
$12.95
---
Beginner Lessons Option 2
1. Banjo Basics 2. Learn to Pick the Right Way 3. Left Hand Techniques 4. Learn to Slide, Pull-off and Hammer-on 5. Learn the songs Cripple Creek, Banjo in the Hollow and John Henry.
$19.95
---
Beginner Lessons Option 3
1. Banjo Basics 2. Learn to Pick the Right Way 3. Left Hand Techniques 4. Learn to Slide, Pull-off and Hammer-on 5. How to use a Metronome and Timing Exercises 6. Playing a Song with a Basic Banjo Roll and Chords 8. Includes five songs: Cripple Creek, Banjo in the Hollow John Henry,Two Dollar Bill and Blackberry Blossom.
$24.95
Buy all the banjo video lessons available for one low price
Click for more details
---

Song lessons 24 easy to play banjo songs in all
including Dueling Banjos, Foggy Mountain Breakdown and The Ballad of Jed Clampett, theme from Beverly Hillbillies
See a sample video

1.The Ballad of Jed Clampett 2. Rocky Top 3. Jesse James 4. Banks Of the Ohio 5. Dueling Banjos 6. Roll in my Sweet Baby's Arms 7. Two Dollar Bill 8. Foggy Mountain Breakdown 9. Will The Circle Be Unbroken 10. America The Beautiful 11. Wreck of the Old 97 12. Joy to the World 13. Hark the Herald Angels Sing 14. My Old Kentucky Home 15. John Henry 16. Cripple Creek 17. Blackberry Blossom 18. Cumberland Gap 19. Turkey in the Straw 20. I'll Fly Away 21. Banjo in the Hollow 22. Bill Cheatum 23. Battle Hymn of the Republic 24. Old Joe Clark. Amazing Grace
Purchase All 24 Songs – Includes Bonus Song, Amazing Grace
$39.95
Or Purchase in Bundles of 6 songs
Bundle 1
Dueling Banjos, My Old Kentucky Home, John Henry, Hark the Herald Angels Sing, Cripple Creek and, America The Beautiful
$12.95
---
Bundle 2
Roll in my Sweet Baby's Arms, Two Dollar Bill, Foggy Mountain Breakdown, Circle Be Unbroken, Joy to the World, Wreck of the Old 97
$12.95
---
Bundle 3
The Ballad of Jed Clampett, Rocky Top, Jesse James, Crying Holy, Cumberland Gap, Blackberry Blossom
$12.95
---
Bundle 4
Turkey in the Straw, I'll Fly Away, Banjo in the Hollow, Bill Cheatum, Battle Hymn of the Republic, Old Joe Clark
$12.95
---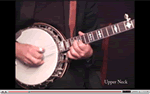 Must Know Banjo Licks
See a sample video
1. Beginnings, Endings and Turnarounds 2. Must Know Scruggs Style Licks G, C and D 3. Melodic and Single String Style Banjo 4. Backup Banjo 5. Up the Neck Banjo 6. Slow Banjo Styles 7. Blues Banjo 8. Chromatic, Triplets, Hot Licks 9. Bending the Strings
Purchase Must Know Licks Lessons $30
More Details on Must Know Banjo Licks
******************
Rock Solid Banjo Timing
and Backup Tips
What is more important than good timing when playing the 5-string banjo?
Ross makes it easy to learn and put to work. See a sample video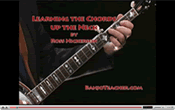 New Lessons Available
1. How to use a Metronome and Timing Exercises
2. Playing a Song with a Basic Banjo Roll and Chords
3. Learning the Chord Forms
---
Bluegrass Band Backup Band to Practice with
Learn these songs and play along with the band at three different tempos
1. Boil That Cabbage Down 2. Banjo in the Hollow 3. Cumberland Gap 4. Wildwood Flower 5. Cripple Creek 6. John Henry 7. Red River Valley 8. Eight More Miles to Louisville 9. My Old Kentucky Home 10. Blackberry Blossom
More Details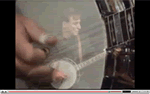 Intermediate and more advanced
1.Backup Banjo for Beginners and New Intermediates 2. Up The Neck for Beginners and New Intermediates 3. Secrets to Building Speed in Your Right Hand 4. Adapting an Easy Melody to Bluegrass Banjo
Intermediate and more advanced
Buy all the banjo video lessons available for one low price
*****************
More Intermediate Online Banjo Lessons from Ross Nickerson
How To Practice Banjo
Improve your practice habits.
Progress faster and get the most from your practice time.
Playing Banjo in the Key of C, D, E, F & G Up the Neck
Easy techniques to quickly transpose the songs you already know in open G tuning to other keys.
Improve your Timing on the Banjo and Learn to Play Backup
Learn better timing on the banjo with loads of bluegrass banjo timing tips, tablature and demonstrations on playing backup with Ross Nickerson's newest banjo video lessons, Rock Solid Banjo Timing and Backup Tips
---
Click over to Ross Nickerson's complete Banjo Instruction Website BanjoTeacher.com
for all available Online Lessons, sample videos, hard copies and for purchase.