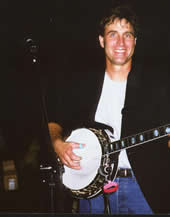 Workshops for Banjo
with Ross Nickerson

Playing By Ear and Jamming Workshops
Newest workshops with Ross Nickerson

Click here for full upcoming Workshop Schedule
---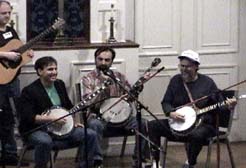 Ross Nickerson, Eddie Collins and
Alan Munde at the
Maryland Banjo Academy


Bela Fleck, Ross Nickerson, Tony Trischka – Ross Nickerson performing
Banjo Finale at the 4th annual Johnny Keenan Banjo Festival, 2005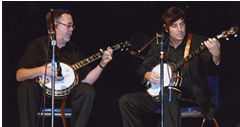 Ross Nickerson appearing with
Tony Trischka in Somerset, KY
---
Testimonial from Joe Bonsall of the Oak Ridge Boys. "The main thing I learned is that I have so much more to learn!! It was a great time really. A four hour banjo class and a jam afterwards. Ross Nickerson is incredible! One of the worlds best. I plan to hook up with him for some private lessons while in Tuscon later on this year.
Testimonial from the director of workshops at Elderly Instruments, Libby Dunbar
On behalf of Elderly, thanks for offering your jamming workshop. As event coordinator I appreciate the chance to provide area students with excellent professional instruction–and you are the epitome of "excellent professional instruction."
…..I was at the Midwest Banjo Camp – Lansing, MI, last June and watched you play banjo on Saturday evening. You play amazingly well. My daughter and I had never seen anyone play a banjo so cleanly and with such speed before. You are really a gifted artist
…….I learned more from you at your clinic than I did at the two other clinics I've attended combined! That you are the best instructor around was reinforced after meeting you in person
…world class player…an exemplary teacher..Ross' leadership and clarity of instruction is tremendous.
….Hello Ross, I just wanted to say thanks for the workshop you held in Atlanta. It was exactly what I needed and I think everyone else there felt the same way. The way you were able to tailor the workshop to fit everyone's needs was very impressive.
Student comments and testimonials on what they learned at Ross's 5-string banjo bluegrass workshops
---
For Full Upcoming Performance and Workshop Schedule click here
Here are some of the subjects that will be covered.playing by ear, reducing dependency on tab, playing with others, learning chords, picking, exercises and drills, ,memorizing, speed building, improvising, overcoming physical challenges, improving songs you know,timing, jamming skills, banjo backup.
Visit Banjoteacher.com for more information
---
 The Banjo Workshop Cruise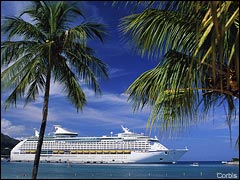 The Banjo Cruise
5-string Banjo Workshop Cruise
Cruise in luxury in the Caribbean while having fun improving your banjo playing!!
This is going to be awesome!
Come by yourself or bring your whole family!!
---
Private Banjo Lessons with Ross Nickerson
I have a lot of experience teaching at all levels. Over the years, I've gained a lot of insight into common problems associated with learning to play the banjo. You are not alone! Along with learning the basics and building a strong foundation, I specialize in helping banjo students overcome their weak spots and push beyond their present skill level. Presently I live in St Petersburg, Florida. I conduct workshops and private lessons all over the US and abroad though. I have over twenty books and DVDs designed to help you learn banjo easier too. Check out my Banjo Instruction and Banjo Supplies website,
BanjoTeacher.com
---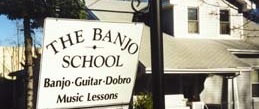 Testimonials – Private Lesson Testimonials
I was fortunate enough to spend a few hours with Ross Nickerson a few weeks ago, and it was a totally different and refreshing experience. He didn't waste any time, and got right down to business. No wasted time talking about non-banjo related issues, no wasted time tabbing out songs. He observed, and corrected, offered constructive criticism, and encouragement. It's too bad "at least from my perspective" that there aren't more like him. And I think it's something that the banjo world needs. Paul's thinking is right on, but I also think that some teachers just are not prepared to go into more of the real nuts and bolts of technique, theory, etc. I'm don't expect to find the Holy Banjo Grail, but some clues and a better map would be nice.
I recently attended one of Ross's workshops. I drove 5 hours to get there and it was well worth the drive. The atmosphere was very good for learning. It was very informal and yet very well organized and effective. There was a variety of skill levels in the class, but I think eveyone's needs were addressed. There was a combination of individualized and group instruction. Ross covered the common problems we all faced, assessed each players specific needs, and even gave them feedback on the condition and setup of their banjos. I look forward to enrolling in future workshops where Ross is an instructor. Great workshop!
ROSS IS AN OUTSTANDING MUSICIAN AND TEACHER, HIS ABILITIES AND APPROACH TO PLAYING THE BANJO INSPIRES A NOVICE SUCH AS MYSELF TO MOVE FORWARD. HE\'S A REAL GENTLEMAN! JOHN A
Give me a call or send an EMAIL if you'd like to give it a try.


Pinecastle Recording artist Ross Nickerson
---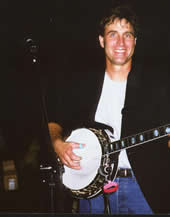 Workshops in your area
I'm available for travel to you to put on Banjo Instruction Seminars.
If you are interested in having a banjo workshop in your area, please contact me at 1-866-322-6567 or email at
rossnickerson@aol.com
Click here for the upcoming Banjo Workshop schedule, maybe there is one in your area.
Banjo Workshop Schedule
Ross Nickerson's Complete Upcoming Performance and Workshop Schedule