Ross Nickerson Sound Bytes and Video clips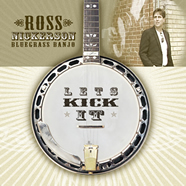 New Ross Nickerson CD
Let's Kick It
Straight ahead bluegrass banjo recorded with members of Blue Highway, Rob Ickes, Shawn Lane, Tim Stafford and Wayne Taylor. Just Released
CD Details
Purchase CD 11.95
Download CD 8.95
---
Hear Sound Bytes

6 - Don't This Road Look Rough and Rocky
11 - You Can't Stop Me From Dreaming
---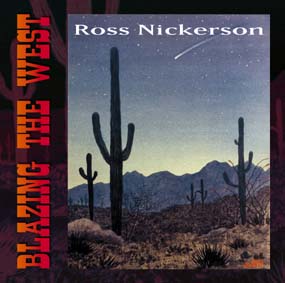 Blazing the West
Tab for Blazing the West is available with the Blazing the West CD and Tablature book
More information on the CD Blazing The West tab available too
Ross Nickerson / Blazing the West Soundbytes

2 - Ghost Riders in the Sky
---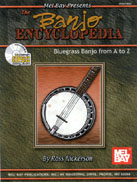 From Mel Bay Publications
The Banjo Encyclopedia
by Ross Nickerson
Soundbytes
Download some free banjo songs from the Banjo Encyclopedia

Tab for these songs included in The Banjo Encyclopedia
---


Scruggs Style Instruction
Soundbytes For Five String Banjo by Ross Nickerson
Little Darlin' Pal of Mine
More Information on Scruggs Style Instruction for 5-String Banjo
---

A Pinecastle Christmas Gathering Soundbytes
This Christmas CD features Pinecastle artists, Eddie and Martha Adcock, Jeff Autry, Wayne Benson, Aubrey Haynie, Jim Hurst and Missy Raines, Sally Jones, Jesse McReynolds, Ross Nickerson, Michelle Nixon, Nothin Fancy, David Parmley, Mark Schatz, Special Concensus, Larry Stephenson, Scott Vestal, Villiage Singers, Charlie Waller, Whitehouse, Wildfire, and Josh Williams.
"Ross Nickerson offers up a rockin bluegrass instrumental version of Oh Come All Ye Faithful" Derek Halsey, Gritz Magazine
A Pinecastle Christmas Gathering
---

Ross Nickerson's CD Evolution
A compilation of 20 years of Ross's recordings. Hear a couple of samples below

Ross Nickerson/Evolution more information
---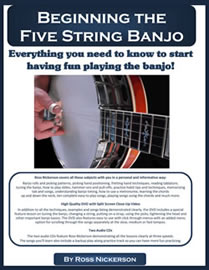 Beginning Banjo from Ross Nickerson
Includes instruction on all the basics, songs, chords and loads of clear practical helpful to the point banjo lessons. The book is very comprehensive and includes two high quality audio CDs and two hour split screen DVD.
More Information
Songs you'll learn are, Cripple Creek, Boil the Cabbage Down, Buffalo Gals, Tom Dooley, Long Journey Home, John Henry, Red River Valley, Blackberry Blossom, My Old Kentucky Home, Old Time Religion and more. The book includes chord lessons, playing by the chords, banjo rolls, left hand positioning, timing exercises, text explanations and picture illustrations. Proper Right and Left-hand technique is covered in detail along with many time saving practical tips.

Wirebound Book with two CDs and DVD – 29.95
Visit Ross and his banjo lesson website



Banjoteacher.com
Links to more banjo Information and help
---
Lots more sound clips below
Some live audio recordings with Band  "Corn Fused" that I have been playing with
Born to Be Wild 4-12-2015
Born to Be Wild 4-19-2015
New Studio Recording
I was hired by a record company to play banjo on this recording
More Free MP3s
These are bonus tracks that are included in two new books Gospel Song E-Book
She'll be Coming Around the Mountain
Live cut by Ross Nickerson with eleven time IBMA Dobro player of the year Rob Ickes and bass player Chris Walls
Another Live cut from the same show
Clip from Ross Nickerson's newest CD Let's Kick It  
Live Recordings
Bluegrass Breakdown-Ross Nickerson-banjo
Salty Dog Blues-Ross Nickerson lead vocal and banjo
Ross Nickerson Videos
Ross Nickerson Performance Videos
Ross Nickerson Performance Videos /18 in this player / Other live videos below
You can scroll and select videos from upper left corner
Live Video / Caledonia
I just stuck the camera on a table in front pf the band, Sorry for not a full band view. I thought it might be cool to post something that is totally improvised and on the spur of the moment. I have only played this song a couple times but it lends itself to some fun picking.It was late and we were all partying and having a good time.
Live Video from a House Concert in New Zealand with Ross's band X-Train
Check out the Lhama's
---
Ross Nickerson Picking ResNick Resonator Banjo / 6 songs
Ross Nickerson Live Videos in Germany with Jenny Lester and Band Hungry Hill
New Live Video of Ross's new band X Train from Harrietville Bluegrass Festival in Australia
Live Video, Ross Nickerson, Yukon Drive from CD Ride

More videos at the videos page
---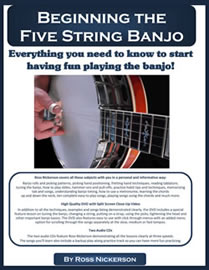 Beginning Banjo Instruction from Ross Nickerson
64 page book with two CDs and two hour DVD
More Information
---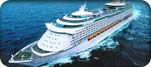 The Banjo Cruise
5-string Banjo Workshop cruise to the Caribbean
Click here for more details!