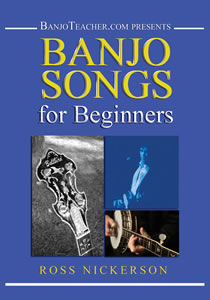 Beginner Banjo Songs to help Beginner Banjo students learn to play the melody easier. This Book/DVD/CD set is perfect for improving your ability to play the melody on a 5-string bluegrass banjo. I chose recognizable and easy to hear tunes to help you learn how melodies are translated into 5-string banjo technique. The Wirebound Book/DVD/CD set includes all songs demonstrated at a slow, medium and faster speed on split screen close-up DVD and CD. The easy to read tablature book inlcludes accent marks for melody notes and both right and left hand fingering indications. The CD also includes a back-up track to practice playing along with.
In the book there is instruction on learning how to play by chords to the song, memorizing tips and advice on how to jump start your progress with the CD backup band practice tracks. The DVD has another added feature allowing you to quickly scroll through the songs without having to re-choose the speed you are working at.
Buy more than one book and receive free shipping!
Some restrictions apply / Details here
more details
---
Songs you learn are:
Amazing Grace, Wildwood Flower, When the Saints go Marching In, Worried Man Blues, Camptown Races, Old Macdonald, Shortin' Bread, John Hardy, Froggy Went A Courtin', Turkey in the Straw, Skip to My Lou, Bury Me Beneath the Willow, Salt Creek and a bonus performance song of Cripple Creek by Ross Nickerson.
---
Banjo Songs for Beginners Reviews
Thanks Ross, It was great to talk to you again. Thank you for advising me on which DVD would be best for me. I love my Nick picks too. Thank you for taking the time to steer me in the correct direction.
Mike EDenholm
Customer who bought Banjo Songs for Beginners and Fundamentals of 5 String Banjo
I received the Banjo Songs for Beginners and the Fundamentals of Five String Banjo , and I just wanted to thank you. I'm very happy with the lesson package, and as I improve with my Banjo skills I'm sure that I'll be ordering more lessons from your company. Mr. Nickerson is an excellent Banjo teacher.
Thanks again,Carlos Martinez
All books, CD's, Videos and DVD's are money back guaranteed.
All books are spiral bound for easy opening and learning.
free shipping
! Some restrictions apply /
Details here