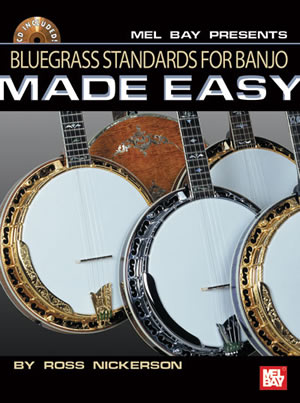 A collection of bluegrass jam standards presented in easy to learn arrangements.
Included are tips for learning each song, backup tracks to practice with and songs recorded at 3 speeds. Left and Right-hand fingering notations have been meticulously added to the music.
The arrangements are presented in tablature along with tips for learning to use tablature more effectively, learning the chords to each song and helpful instruction on memorizing songs
The Audio CD included has all the songs demonstrated at three speeds and a rhythm track to practice with.
Songs included are:
Worried Man Blues, Grandfather's Clock, Rolling in My Sweet Baby's Arms, Sitting on Top of The World, Jesse James, John Hardy, My Old Kentucky Home, Wreck of the Old 97, Banks of the Ohio, John Henry, Red River Valley, Bury Me Beneath the Willow and Two Dollar Bill
Buy more than one book and receive free shipping!
Some restrictions apply / Details here
---
All books, CD's, Videos and DVD's are money back guaranteed.
All books are spiral bound for easy opening and learning.
free shipping
! Some restrictions apply /
Details here