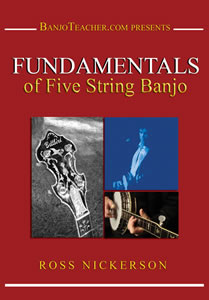 Get off to a good start and avoid creating bad habits!
Ross Nickerson's Fundamentals of Five String Banjo Book, two CDs and DVD will help you get started with solid correct bluegras banjo technique. Everything is covered in depth, demonstrated slowly for you and explained thoroughly.
The book has loads of helpful advice on all the banjo basics and features easy to read music tablature with both right and left hand figuring indications and accent marks for the melody notes.
The two audio CD's come with all the lessons and songs demonstrated clearly at three speeds and also features backup play along tracks to practice with.
The DVD features high quality video with split screen technology and easy to use click through menus. Also included on the DVD is a special feature lesson on tuning the banjo, changing a string, putting on a strap, using the picks, tightening the head and other important banjo basics. The DVD has an added menu option for scrolling through the songs at the slow, medium or fast tempos separately.
Learn Banjo Technique… right from the beginning!
Everything you'll need to know to start having fun on the banjo!
Ross Nickerson covers all these subjects with you in a personal and informative way
Banjo rolls and picking patterns, fretting hand techniques, reading tablature,tuning the banjo, slides hammer-ons and pull-offs, practice tips, memorizing and playing without music, understanding timing, how to use a metronome, learning the chords, tightening the head, changing the strings, songs to learn and many other important fundamentals not found in other Books, CDs or DVDs.
Comprehensive 52 printable page book
Two Audio CDs
High Quality DVD – Over two hours long
All Lesson demonstrations are slowed down for easy learning
Reviews
Thank you, Your DVD on the Fundamentals of Banjo is fantastic. No one should be without this item. It has helped me tremendously. Because of you and your support and web site. I am learning how to play this beautiful instrument that I love so much. Thank you for your web site and for being there to help. I am recommending this site to my friends. Once again, thank you.  Sincerely,  Autumn Rose LeFay
I have got to tell you that this DVD/CD set is something I should have had from the beginning. In my opinion it takes the beginner, in the best way I have ever seen, very carefully from square one, forward to playing tunes. May I suggest a web site link titled "Beginners Start Here" and list only two must have items, "Fundamentals of Five String…" and The Banjo Encyclopedia. Dennis Lottman
Although I have only had the DVD's a few days, I can't believe the progress I have made sticking with my same 1hour a day practice. I knew that your material would fit my learning style as soon as I saw and read some of it before I ordered. Although I had learned rolls from other book sources and videos before, your method took me where I needed to go to understand what I was playing and why. The best compliment I can pass on is from my wife – she said my timing is so much better and she likes to listen to what I am playing (she ran for the head phones before).  I am sure you get tons of notes like this, but I just wanted you to know how pleased – and grateful – I am. Thank you! Gerry
The DVD was a hit for my nephew for Christmas. Thank you for your last minute assistance. Ck
Buy more than one book and receive free shipping!
Some restrictions apply / Details here
---
All books, CD's, Videos and DVD's are money back guaranteed.
All books are spiral bound for easy opening and learning.
free shipping
! Some restrictions apply /
Details here