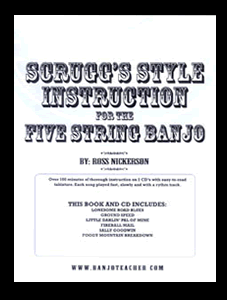 Hear Ross Nickerson perform six Earl Scruggs classics at two speeds followed by detailed instruction with many Scruggs Style insights and tips. Hear hard to get licks slowed down and get banjo instruction from someone that knows how to help you build a foundation. The valuable lessons you'll learn from this book and two cd's can help every aspect of your banjo playing.
The tablature book and two CDs include up the neck solos and breaks for Foggy Mountain Breakdown, Little Darlin' Pal of Mine, Fireball Mail, up the neck and a solid low break for Lonesome Road Blues, and some other tasteful innovations in solid picking bluegrass Scruggs Style.
The Scruggs Style Instruction for Five String Banjo book with two CDs is not for beginners. It is more suited for intermediate players who understand the fundamentals and feel they are ready to learn by reading the tablature and listening to the CD. The CDs have the songs recorded slower and up to speed along with backup band rhythm tracks to play along with as well as verbal audio instruction on each song but the tablature booklet does not include text instruction.
Buy more than one book and receive free shipping!
Some restrictions apply / Details here

Scruggs Style Instruction Soundbytes For Five String Banjo by Ross Nickerson from the Book and CDs
Book and CD's are 30-day satisfaction guaranteed. The CD's are lifetime replacement guaranteed.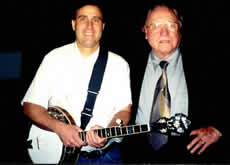 Ross Nickerson, Earl Scruggs
NBC Studios, Channel 4,
Washington D.C. May, 2000
All books are spiral bound for easy opening and learning!
Reviews
"I want to get the clear cut definition I hear in your playing". Alton Wagner, PA
"Nickerson…not just a good player but a really great player". Bob Piekel, Banjo Newsletter
"The sound is crisp and dynamic, unlike many other instruction CD's I already own".  Ralf R. Australia
"It would take pages to relate how much enjoyment I get from you Scruggs Style tapes".    Linda Gorchinsky, PA
"I am enjoying the personal instruction of a pro". John Hiatt, MD
All books, CD's, Videos and DVD's are money back guaranteed.
All books are spiral bound for easy opening and learning.
free shipping
! Some restrictions apply /
Details here