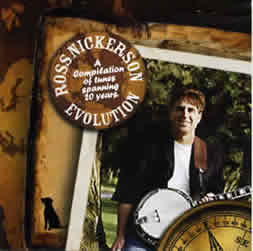 Discounts on Multiple CD orders
A Complication of tunes spanning 20 years.
Including: Foggy Mountain Breakdown, Stairway to Heaven, Under the Double Eagle, El Cumbanchero, Ghost Riders in the Sky, Train 45, I'll Fly Away, John Henry and more.
Support the artist by buying directly.
Free banjo tab for Stairway to Heaven as played on the CD with purchase.
Free U.S. shipping on all Ross CDs
I will say that Nicks rendition of stairway to heaven is incredible. I think he used every available A-minor fingering on the banjo to play it.
In the video where I first saw Ross play Stairway to Heaven I was so amazed because he just played it – with no accompaniment – and in perfect time.  Robert

Let's Kick It

Blazing the West

Evolution

Ultimate Banjo

Live & Kickin' It

Christmas Gatherin'
Free U.S. shipping on all Ross CDs
click here for discounts on multiple CDs