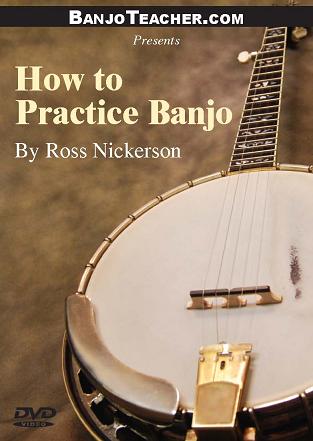 Ross Nickerson of BanjoTeacher.com has come out with the newest in his ongoing series of top rated Banjo Instruction DVDs, How to Practice Banjo. What could be more practical and useful than to receive guidance on the one subject that will ultimately define your overall ability and success with learning this fun, but sometimes tricky instrument?
Ross takes you through one time saving tip after another and shows you tricks he has helped students with for over 30 years. He covers many aspects of practicing banjo and how to get real results, simply and fast. There is so much to work on but with all of us having limited time this could be the best banjo instruction investment you could make. Learn how split your practice time into separate areas of practice, left hand, right hand, exercises, how to work through the hard parts and get results.
In one of the valuable lessons on the DVD, Ross teaches you how to quickly learn a song from tablature so you can learn and retain it quickly, play by memory and pick the song without looking at tab.. Read the Chapter titles for the DVD below to get an idea of all the subjects and techniques that Ross covers in this one hour and forty minute DVD.
Some of the subjects you'll learn how to do are:
Quickly memorize and retain a song learned from tablature
Work through difficult spots and develop muscle memory
Improve everything you've already learned
Pick faster and more accurately
Develop the ability you need in your fretting hand to relax when you play
Practice aspects of learning banjo separately and then bring it all together at a higher level
Improve slides, hammer-ons, pull-offs and bending the strings
Practice timing and develop rhythm
Learn the notes on the neck and exercises to develop more overall skill
Develop your ability to play without tab through chord progression practicing
Practicing accenting the melody notes so you can really hear the melody when you play
How to Practice Banjo by Ross Nickerson / 1 hour and 45 minutes Chapters on the DVD
How to Practice Banjo introduction and overview, Building Skill, Not just learning songs, Practice Builds Confidence, Relaxing when you play, How much time should I spend developing my skills, How I learned to play the banjo, Learning banjo is a physical Challenge / Not Mental , Being Aggressive in Practice, Examples of Being Aggressive in practice, Raising the Bar on Yourself and Isolating areas that need practice, Working on the Fretting Hand, Do you I need to always sound good during practice? Setting Goals, What we are going to cover, When to turn the page and move on, Splitting  up what you practice, Lesson Plans, How to learn a song from tablature, Learning the chords to the song first, Learning the timing to the song, Understanding the timing, Learning the fretting hand parts, Learning the picking part, John Henry / Picking hand only, John Henry / Fretting hand only, Combining the picking and fretting hands, Learning the most difficult part of the song first, Demonstration / Learning the most difficult parts, Practicing accenting melody notes, Fretting Hand Stretching Exercises, Metronomes Demonstration, More stretching exercises, Fretting accurately, Making chord shapes, Practice Chord Progressions, Chord Progression Demonstration  G D F C, Chord Progression Demonstration  G Em Am D7, Other ways to practice chord progressions, Working on the Picking Hand, Varying the picking, Varying the forward roll, Practicing how to pick faster, Using a "Go to" Roll, Working with play along CDs/DVDs  / Jamming, Working through rough spots in picking, Fretting hand practice and help, Learning the notes on the neck, Each note on the neck, Exercises / Slides, Pull-offs, Hammer-ons , Chokes, Pull-off Exercises, Slide Exercises, Hammer-on Exercises, Chokes and Bending Exercises. Memorizing Tips, Your Practice Environment, Building Muscle Memory, More on practicing things separately, More on Memorizing Tablature, Counting out the notes, Demonstrations of quarter and eighth note combinations, Closing Remarks , Special Features / Ross Nickerson Performance Video
Stoney Point, How I Arranged Stoney Point, Banjo and Equipment used by Ross Nickerson
Buy more than one book and receive free shipping!
Some restrictions apply / Details here
---
All books, CD's, Videos and DVD's are money back guaranteed.
All books are spiral bound for easy opening and learning.
free shipping
! Some restrictions apply /
Details here