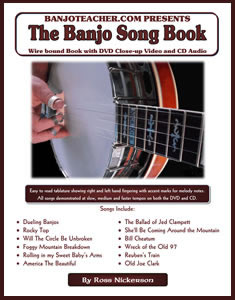 The Banjo Song Book By Ross Nickerson

12 popular five-string banjo tunes in tablature with CD and DVD to learn easy from.
Learn Dueling Banjos, Wreck of the Old 97, Bill Cheatum, Reuben's Train, Ballad of Jed Clampett, Foggy Mountain Breakdown, Old Joe Clark, Two Dollar Bill, She'll Be Coming Around The Mountain, Will The Circle Be Unbroken, Red River Valley and bonus song; America The Beautiful.
All the songs include easy to read tablature with accents for the melody notes and a CD recording of each song at a slow and fast tempo.
HIgh Quality DVD available for The Banjo Song Book with split screen close-ups of each hand and quick cue menus!!
Wirebound book with instruction on learning how to play each song.
Hello Ross,
I thoroughly enjoyed your 'Banjo Songs' instruction book and completed it over the weekend. Its overall simplicity allows me to play many of the tunes including 'Foggy M.B.' at your CD performance tempo. With that under my belt I can now go back and add in some complications (3-2 pull offs after the 2-3 hammer-ons etc.) that would have otherwise stagnated my pace and kept me from focusing on tempo. While most of the 'Songbook' tunes are freely accessible on the net in tabledit form, they lack the necessary straightforwardness needed to leap hurdles facing an intermediate player, namely rhythm and tempo with accuracy. Your book accomplished that for me without frustration and improved my confidence. It was also motivating to watch the performance downloads at your website.
I just ordered your Scruggs Style book from you and was hoping that someone is around to drop in the mail this afternoon so I can get started on it later in the week. …Douglas Fish
Ross, Your lessons and teaching methods are the best!  I've purchased a lot of books and dvd's from other artists, but find your way to be the best.  I flew thru your Beginning 5 string Banjo and can play all songs at about 85 bpm on my metronome. Never played a banjo before getting your book.  You make it fun.  The Banjo Song Book looks great and can't wait to get goin on that.
BTW – got your new CD and it's awesome!
Thanks , Doug
……Ross, Thank you, thank you, thank you. I learned more from your book and tapes in an hour, than in nine months with other sources. I am 64 and was beginning to doubt that I could ever learn to play the banjo. Now I believe I can do this! You are my new banjo hero, next to Kermit of course! Thanks again. Mallorie
From Great Britain
i got the song book and dvd this morning. excellent tuition close-up photos top quality dvd and easy for any banjo player to learn. thank you Ross for all the great tuition i had from you so far, best regards Ray. More Reviews

Buy more than one book and receive free shipping!
Some restrictions apply / Details here
---
All books, CD's, Videos and DVD's are money back guaranteed.
All books are spiral bound for easy opening and learning.
free shipping
! Some restrictions apply /
Details here