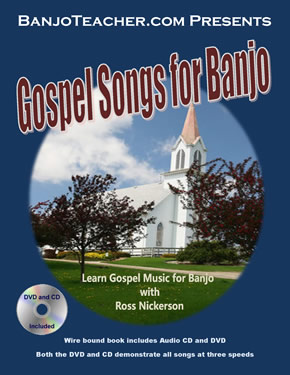 Gospel songs for Banjo is a collection of popular Gospel Songs arranged by banjo master Ross Nickerson.
All Lesson demonstrations are slowed down for easy learning.
The tablature is big, easy to read and includes left and right hand fingering indications, as well as accent marks for melody notes too. Also in the book is the chords for each song, instruction on playing and picking through the chord changes of the song as well as advice on how to learn the songs easier. These fun to pick arrangements all use proper 5-string bluegrass banjo technique and are designed so you can hear the melody clearly and learn the songs easily.
Learn Gospel music for banjo with Ross Nickerson's high quality, DVD, Book and Audio CD. Easy to read tab, close up dual screen video of both hands as the songs are being played. Both the DVD and CD demonstrate the songs at three speeds.
---
Songs included are: I'll Fly Away, Crying Holy, This is My Father's World, I am a Pilgrim, Jesus Loves Me, Are you Washed in the Blood, Michael Row the Boat Ashore, That Old Time Religion, Keep on the Sunny Side, Where the Soul of Man never Dies, I'm Working on a Building, Amazing Grace, Swing Low Sweet Chariot, Wayfaring Stranger, and Do Lord.
---
Hear samples of two of the fast versions, don't worry, these are also slowed down and played at a medium tempo on the DVD and CD.
---
34 page Book, DVD and CD included
The DVD features a special menu option for scrolling through the songs only at the speed you are working at.
<
Buy more than one book and receive free shipping!
Some restrictions apply / Details here
---
All books, CD's, Videos and DVD's are money back guaranteed.
All books are spiral bound for easy opening and learning.
free shipping
! Some restrictions apply /
Details here