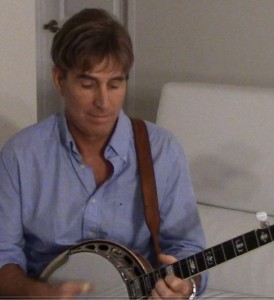 Five-string banjo master Ross Nickerson has been playing professionally since the age of 17. Ross has been a member of some very successful bands, including the distinction of being a two time winner of the Telluride Band Contest, being selected for contracts at Tokyo Disneyland and Opryland in Nashville, two time winner of the Four Corners Bluegrass Festival Band Contest, and the winner of Newspaper Readers Poll Best Band contests three times. Ross has been performing and teaching for many years both nationally and internationally, most recently Australia, Africa, Canada, England, Ireland, The Netherlands, Germany, and Sweden.
Ross Nickerson has recorded with some of the top names in Bluegrass music. He was recently released on a compilation CD called Ultimate Banjo that included banjo legends, Earl Scruggs and Sonny Osborne. Ross recently appeared on stage with The Riders in the Sky and The Oak Ridge Boys and has picked and appeared with many of the best banjo players in the world including Earl Scruggs, Bela Fleck,  Jens Kruger and Ralph Stanley.
Ross's release with Pinecastle, Blazing the West, was named as "One of the Top Ten CD's of 2003" by Country Music Television, True West Magazine named it, "Best Bluegrass CD of 2003" and Blazing the West was among the top 15 in ballot voting for the IBMA Instrumental CD of the Year in 2003. Ross's newest CD called Let's Kick It features hard driving traditional Bluegrass Banjo with Ross's own personal touch. Accompanying Ross on the CD are members of the world renowned Bluegrass Band Blue Highway.
Ross Nickerson is the author of the best selling book, The Banjo Encyclopedia, "Bluegrass Banjo from A to Z" published by Mel Bay Publications and over twenty other Books and DVDs designed to help others learn to play banjo. Ross is recording new DVDs, completing more books, and continuing to offer more services for banjo players at his website,
BanjoTeacher.com.
Throughout his career Ross Nickerson has always enjoyed sharing his knowledge and helping others to learn to play the banjo. His many years of experience teaching privately and traveling the world to hold group workshops has helped him gain many unique insights into the common obstacles facing banjo students today. He has listened to his students, seen the challenges they face, understands what students are craving for and always delivers his practical, focused instruction in a personable and easy to follow manner.
Ross has been selected to be on the faculty of some of the best bluegrass and banjo music camps including Maryland Banjo Academy, Ireland's Johnny Keenan Memorial Banjo Festival, the Mid-West Banjo Camp, Smokey Mountain Banjo Camp and Banjo Camp North. He is also the founder and coordinator of the Nova Scotia Banjo Camp, the African Banjo Safari and the annual BanjoTeacher.com Banjo Cruise.
Ross Nickerson on the cover of Banjo Newsletter….. read interview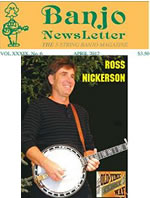 CDs
Sound Clips and Videos
Instructional articles
Ross Nickerson Podcast Interview with Bluegrass Unlimited Magazine