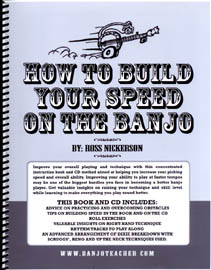 Learn how to make everything you play on banjo sound better while you increase your speed and overall ability.
Get valuable insights on right hand technique, practice habits, and tips that will save you hours of practice time and move you towards your goals.
The book and CD includes 24 two measure rolls at three speeds to learn and practice with, as well as text instruction and personalized verbal instruction on the CD. Find out why so many banjo students have purchased and benefited from this specialized instruction method.
Buy more than one book and receive free shipping!
Some restrictions apply / Details here
Now available in E-Book form!
Download the E-Book and CD Tracks of How to Build Your Speed on the Banjo by Ross Nickerson you can download from a secured webpage.
E-Book with CD Tracks only $15.00 and no shipping cost.

Purchase How to Build Your Speed on the Banjo by Ross Nickerson for 4.95 off and no shipping charges with this E-Book option. After you purchase you receive a link immediately to instructions to access a secured webpage with a link to download the Book in PDF with all the tracks from the CD. You can either download the tracks to your hard drive or keep returning to the webpage and simply click on the individual track links when working with a song. This version includes 24 two measure rolls at three speeds to learn and practice with. Also included are the Tabledit tablature files that can be used to hear the songs on your computer
Testimonials
….I would like for you to know the exercises have already help my speed and I like the presentation".Thank you. Dwayne Glanton
…Ross, The Dixie Breakdown book is a great exercise. Super roll practice. Fun song to work up and demonstrate the abilities of the banjo. Keep doing the web page and training material. I would like to see more intermediate – advanced methods and tab.
….I have enjoyed all of the material you have offered. Thanks for being there for the aspiring banjo players of the world. Joe Meyer…I've taken some private lessons but have gotten more out of your Building Speed book and CD. Bob C
…Ross, I ordinarily do not contact anyone when I purchase their products, but I had to let you know I purchased your "How to Build Speed on Your Banjo" and in just 5 days it has absolutely increased beyond my expectations. Billy F
….I have found that the song Dixie Breakdown teaches so much more than just the song itself. What I am learning is transferrable to just about everything else I have learned so far. I would highly recommend to anyone wanting to improve any part of playing ability to get the course, learn the exercises, do them, and learn the song. Thanks again.
How to Build Your Speed on the Banjo is 30-day satisfaction guaranteed or your money back with no shipping charges!
All books, CD's, Videos and DVD's are money back guaranteed.
All books are spiral bound for easy opening and learning.
free shipping
! Some restrictions apply /
Details here