A Banjo Players Dream
This article is from a column Ross Nickerson wrote for Ibluegrass magazine.
If a banjo player could make five wishes, what would they be? After you were granted unlimited playing ability, the others might go like this. Perform on the Grand Ole Opry, be Bill Monroe's favorite banjo player, make a million dollars playing the banjo, and one would definitely be, pick with Earl Scruggs. Well one wish came true for me and I'd like to share the experience with you.
Through a series of events that were very unexpected I found myself at Channel Four in Washington D.C. a few weeks ago doing a television taping along with four other banjo players, a bluegrass band and none other than Earl Scruggs. Earl Scruggs was in Washington D.C. with his wife Louise participating in a copyright hearing and was invited to Channel Four by Doug Mckelway. Doug Mckelway is a news anchor at Channel Four and a fine banjo player. Doug was pursuing one of his banjo players dreams and fortunately for us he opened the door and invited others to take part. The other participants were banjo players, Mike Munford, Ira Gitlin, Dick Smith and myself. The bluegrass group was Bob Perilla and Big Hillbilly Bluegrass with Tad Marks on the Fiddle, Mike Marceau on the bass, Akira, (formally of the well known Japanese bluegrass band Bluegrass 45), and Bob Perilla. Bob Perilla was responsible for inviting me. Thanks Again Bob!
The first event was a surprise banjo ambush (good natured of course) planned for Earl when he came in the studio. (Several of us managed to cut in front of a live news break which ended up being pretty funny). We all sat down around some computers and tried to look inconspicuous. (Ya right!) When Earl and Louise came in we went into a rousing version of Foggy Mountain Breakdown. Earl turned red and couldn't stop smiling and none of us could stop smiling either. We then all shook hands after our tribute and proceeded down to the studio to do the taping. It took the technicians a long time to get set up which turned out to be a great time to talk with Earl and pick some. Mike Munford was gracious enough to offer Earl his prewar mastertone, (although I think Earl could get tone out of a bucket). We then played Pike County Breakdown followed by Foggy Mountain Special. Ira Gitlin and Doug Mckelway switched off with Mike so he didn't have to sit out completely. We were all staring at Earl's fingers hoping to pick up something. Someone asked Earl if he played the hook lick in Pike County Breakdown thumb-index, or a thumb-index-middle forward roll on the first string. The answer; thumb-index(I guess using the forward roll was one of those Earl did it this way rumors). The quote of the day from one of us on camera belonged to Ira. He was asked; How do you feel about meeting Earl Scruggs? answer; " It's like a group of physicists meeting Isaac Newton".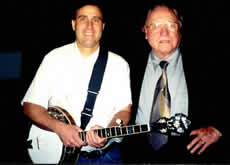 Me and Earl Scruggs!!!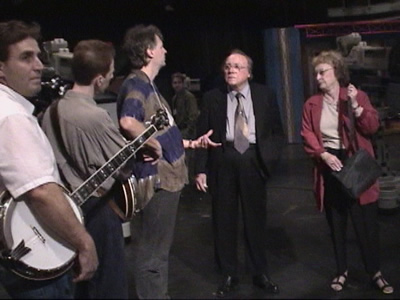 Earl and Louise Scruggs Banjo Players left to right, Ross Nickerson, Ira Gitlin, Mike Munford
Unfortunately for me I had to leave early to fly to Phoenix from Baltimore so I missed some of the action. I was able to give Mike my banjo to use though. To think that I actually considered not coming down that morning because the times were tight. I'm glad some level of irresponsibility took over. That would have been a bad time to be conservative.Just before I left I told Earl that I was sorry that I had to leave. He leaned over to me and said "nice picking with you". Hearing those words from Earl Scruggs had to have been on my wish list.

Ross Nickerson Banjo Books, CDs and DVDs