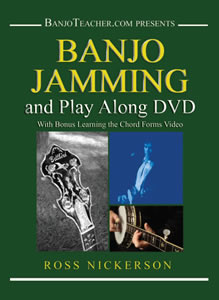 Learn to play banjo backup, how to solo, improvise and have more fun practicing. Play along with me and a backup band. These lessons and songs to play along with should really help you learn to recover from mistakes, memorize tablature easier and become a better banjo player.
Pick along on seven important standards at three different speeds. I first explain the chords to each song, then when the songs begin, I play a solo and then play backup for you while you take your turn. The high quality audio includes bass and guitar so you can learn and hear what it feels like to be in the groove. The DVD also comes with a 25 minute bonus video lesson on learning all the chord forms without using a chord chart. Much the way my book The Banjo Encyclopedia presents learning the chords but illustrated and shown to you on video.The DVD comes with written tablature arrangements for the songs and instruction on how best utilize the DVD.
The songs are:
Cripple Creek, Blackberry Blossom, Salt Creek, Old Joe Clark, Boil the Cabbage Down, Amazing Grace and I'll Fly Away
Buy more than one book and receive free shipping!
Some restrictions apply / Details here
Reviews
………Ross, I want to take just a moment to say thanks.  I recently received your DVD, Banjo Jamming and Play Along.  I've been playing for a couple of years now and had not made any progress with the chords or jamming.  Your special section regarding the chord positions has been very helpful.  It was fun to learn how to make and locate the chords in ten minutes!  I will refer to my copy of the Banjo Encyclopedia to further build on my chord progress.  Thanks for your teaching! Darrick Salyers
Thanks, I'm already a satisfied customer with the DVD materials, it's top quality. Simon, from Australia
……Ross, I'm having a great time with the new DVD's. Having the slow, medium and fast versions is extremely helpful. The slow helps in getting the rolls down correctly. Then moving on to the medium speed helps with getting the rhythm down, and it seems to me to be easier to distinguish between the eighth notes and quarter notes at this speed. I was up to the fast speed in no time, although I still need quite a bit of practice to make it clean. I'm learning a lot from these DVD's in a short amount of time, which is key for me because I don't have a lot of time to practice.
Ross, You have hit a double home run! The DVD's are excellent, whatever level you happen to be playing at. I was not aware of some timing issues until your play along DVD.Your instruction is concise and very helpful causing immediate progress with a little effort and practice.
….Superb help and many valuable thoughts and tips…the bonus track on the "jamming" DVD is worth the entire cost.
Buy more than one book and receive free shipping!
Some restrictions apply / Details here
---
All books, CD's, Videos and DVD's are money back guaranteed.
All books are spiral bound for easy opening and learning.
free shipping
! Some restrictions apply /
Details here