Blazing the West now featured on Renowned
Bluegrass Record Label Pinecastle Records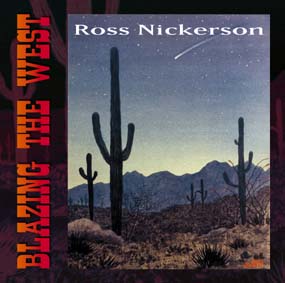 Hear Sound Clips from Blazing the West
Featuring Banjo Player Ross Nickerson with special guests:
Riders in the Sky, Tim O'Brien, Darol Anger, Butch Baldassari, Mike Bub, Jason Carter, Joe Craven, David Grier, Rob Ickes, Laurie Lewis, Peter McLaughlin, Tom Rozum
Songs included are: El Cumbanchero, San Antonio Rose, Garcia, Panhandle Rag, Ghost Riders in the Sky, Texas Blues, Red River Valley, Lonesome Cowboy, Jesse James, Don't Fence Me In, Standing Eagle, and Streets of Laredo.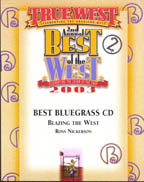 True West Magazine named Blazing the West the top Bluegrass CD of 2003 in their annual Best of the West issue.
Country Music Television voted Blazing the West one of the top ten albums of 2003.
The International Bluegrass Music Association named Blazing the West one of the top 15 instrumental CD's of 2003.
---
Reviews
Cowboy and Western Songs on Banjo with Ross Nickerson's award winning Blazing the West CD
BANJO NEWSLETTER "Nickerson's playing is tasteful, so carefully arranged, so very very thoughtful and complex".
BLUEGRASS NOW "A successful merge that should encourage others to explore Bluegrass in the Cowboy way or should I say Cowboy music in the Bluegrass way".
TUCSON CITIZEN "No matter what mood or genre Nickerson has the chops to pull it off with brilliance and taste, and the sidemen to compliment every match and turn".
BLUEGRASS UNLIMITED "Ross Nickerson deserves a lot of credit for coming up with tasteful, appropriate, and interesting banjo versions for such a wide variety of tunes, on some very challenging material".
RANGER DOUG-RIDERS IN THE SKY "Ross Nickerson has boldly attempted what few have dared to try and at which far fewer yet have been successful – fusing the intense, high lonesome sound of the dark Appalachian hollows with the laid back, sun baked music of the American West. It's not a match that's easy to make, but Ross has pulled it off beautifully, in the main because he's master of both very different styles, and has long experience in both. He takes his impressive credentials, his mastery of his instrument, his sensitivity and taste, and adds them to a splendid selection of classic and original material. By pulling together some of the most creative and respected musicians in both styles, Ross has created from these diverse ingredients a sound which detracts from neither form, but instead adds up to something unique, expressive, beautiful and thoroughly wonderful"!
---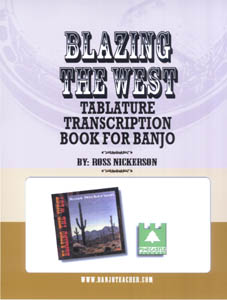 Blazing the West Tab Book Now Available!
Tab for El Cumbanchero is available with the Blazing the West CD and Tablature book.
Easy to read tablature with tips on learning the songs, backup tips, notes on each song, and some photos.
---
What Radio is Saying…………..
"Just got that Ross Nickerson cd in….I only have 2 words:……AWESOME & COOL…will be playing it…still playing the Village Singers…ON MY Father's Side….still one of my most requested tunes on the gospel show…and still playing their Jimmie Davis salute CD…" —Jay Shankle., KKNG
"Just a note to thank you for sending all this great new music for us to broadcast, most recently, Ross Nickerson. What great talent! What a great musician!" – Melanie Jackson, WMOQ
"Thanks for the latest CDs from Wayne Benson and Ross Nickerson. Lots of Third Tyme Out fans in our area and it's a pleasure to introduce Ross Nickerson's new solo project." Jay Allen, WBRF
"I just received Ross Nickerson's BLAZING THE WEST…it should come with the following instructions: Enter onto expressway, place in CD player, crank up volume, and put the pedal to the medal. Speaking as a banjo player, Ross' project is very listenable; it's innovative, but stays on track, never gets too far out for true Scruggs lovers to enjoy. Ross is giving a workshop up this way this weekend. Wish I had this in hand sooner to play it, and have Ross on the air. I'd love to hear him live sometime!" – Joe Wills
"Ross Nickerson is indeed a big dog 5 stringer. He can PLAY, and a gentleman too! His solo CD, "Blazing The West" …is RECOMMENDED!!! – Mike Weber
"Just wanted to add my thoughts to the Ross Nickerson cd. Love it! Just got it, this week, and it starts airing on our bluegrass show next week" – Michael Reece-WIFE
"I have known and listened to Ross Nickerson for many years. The re-mastering of his album is fabulous! He is a great banjo player and is in very fine company on his album. I have also watched and listened to Wayne Benson for many years. This is a beautiful album! Thanks for sending me great music." Marilyn Ryan
What Bluegrass Now Magazine is saying………….
"Award-winning banjo wizard Ross Nickerson does a bang-up job on his new release, "Blazing the West." He has assembled a stunning cast of master musicians that serve up tasty instrumental renditions of bluegrass, western swing, country and folk, from the opening notes of a ripsnorting "El Cumbanchero" to the closing refrain of a dreamy "Streets of Laredo." Guest artists include Ranger Doug, Woody Paul, Too Slim, Tim O'Brien, Butch Baldassari, Mike Bub, Jason Carter, Joe Craven, David Grier, Darol Anger, Rob Ickes, Laurie Lewis, Peter McLaughlin, Ben Wilborn, and Tom Rozum. Wow, what a killer lineup! A special treat is to also hear Nickerson and friends pick the living daylights out of four self-penned tunes: Garcia, Gunslinger's Blues, Lonesome Cowboy, and Standing Eagle. Garcia is a challenging contemporary piece that features some hot melodic picking.
"Gunslinger's Blues" hits the target dead on for showing that, yes, a banjo can effectively play the blues. "Lonesome Cowboy" is a minor-keyed fiddle tune, that trucks, and "Standing Eagle" is a screaming Texas-style fiddle tune that reminds me a bit of an up-tempo Sally Goodin'. Nickerson has much performing, recording, and teaching experience under his belt, and it clearly shows that he's a consummate and professional 5-stringer. He currently fronts his own band called Ross Nickerson and The Fast Brothers, which showcases his original and other material. He currently plays a Goldstar banjo, which he affectionately calls his "Masterclone."
Clearly a product of many musical influences, Nickerson shows that he is comfortable with an eclectic body of music. I can almost see sagebrush rolling by as Nickerson's fingers roll on his strings. "Blazing the West" is a splendid compilation of highly arranged, hotly picked tunes that break new trail for demonstrating the great versatility of the instrument and its master. I highly recommend that you pick up this album and throw it on your Walkman during your next trail ride. Five-string players may also want to get the tablature book for this album." – Joe Ross
Reviewed by: Joey Black
"Blazing the West" is a lot less talk, and a lot more action! Ross Nickerson blazes right past the line of mixing bluegrass and traditional western music. A line that few bluegrass musicians choose to cross, for fear that they will fall into a terrible stereotype, and not recover.
"Garcia", one of Nickerson's four original pieces, is truly a highlight to this completely instrumental album. It showcases his writing talent and his ability as a seasoned banjo player to smoothly blend melody with his solo breaks, as well as slip into solid backup rhythm with the rest of the band. Other highlights include the extremely lonesome sounding approach to "Streets of Laredo" and the straight-ahead, yet very stylistic "Ghost Riders in the Sky" and "Red River Valley". Ross also creatively produces the sound of an old player piano with his five-string in "Texas Blues." Ross does a great job of mixing traditional western songs with some contemporary compositions. The album is tastefully peppered with the talents of top-notch bluegrass musicians including; Mike Bubb, Jason Carter, Rob Ickes and David Greir, just to name a few.
4 originals by Ross. They could not have started this project off with a more appropriate selection. Ross Nickerson sets his banjo on fire with his El Cumbanchero . All western oriented tunes, and performed with unparalleled instrumental mastery by Ross Nickerson, Tim O'Brien, David Grier, Joe Craven, Rob Ickes, Mike Bub, Ranger Doug, Jason Carter, Butch Baldassari, Peter McLaughlin and "Too Slim". Very diverse and all excellent selections that make either great background or forefront music. You can almost smell and taste the gunpowder in Ross's original Gunslinger Blues. I really enjoyed each and every tune n this project. VERY well produced. – Jerry Paul
With banjo player Ross Nickerson the "Oldwest" is making its entry in the "Restricted Area" of bluegrass music. The sound you're going to meet on this album is a rather unusual sound; trying to fuse the music from the "Cowboy Era" with the music from the mountains in the East. It is definitely not bluegrass music as one might expect it, it is a very own and personal way of playing the five string banjo. It is unique, surprising, extra-ordinary, risky and enchanting music. A typical album for a "trained listening ear." – Ted Clark
Buy this CD $11.95 | Download $8.95
CDs by Ross Nickerson

Let's Kick It

Blazing the West

Evolution

Ultimate Banjo

Live & Kickin' It

Christmas Gatherin'