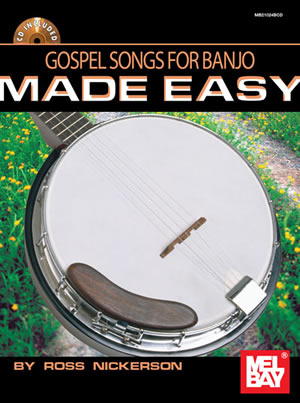 Gospel Songs for Banjo Made Easy is a collection of gospel favorites arranged for bluegrass 5-string banjo. The arrangements stay true to the classic three-finger "Scruggs style" techniques with the melody skillfully woven in.
On the 68-track CD, Ross plays each song at three speeds with a rhythm track for each song to practice along with.
The tab is large and easy to read with accent marks for melody notes. Chord charts for each song are also provided to give instruction on how to play through the songs using only the chords Ross also writes out tips and suggestions for each song, which is not normally seen in song books. This should give you a significant head start by having the most challenging spots pointed out to you before you even get started.
In Gospel Songs for Banjo Made Easy Ross Nickerson brings all his knowledge from years of teaching privately and writing books to help you learn these fun to pick classics, the EASY way!
---
Song Titles
Amazing Grace, Are You Washed in the Blood, Cryin' Holy, Do Lord, I Am a Pilgrim , I'll Fly Away, Jesus Loves Me, Keep on the Sunny Side, Michael Row the Boat Ashore, Old Time Religion, Soul of Man Never Dies, Swing Low, Sweet Chariot, This is my Father's World, Wayfaring Stranger, Workin' on a Building
---
Hear a sound clip

---
Buy all 5 Banjo Song Books Made Easy for Banjo for one low price.
Includes Free U.S. Shipping
details


Buy more than one book and receive free shipping!
Some restrictions apply / Details here
---
All books, CD's, Videos and DVD's are money back guaranteed.
All books are spiral bound for easy opening and learning.
free shipping
! Some restrictions apply /
Details here