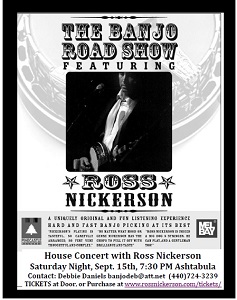 House Concert with Ross Nickerson

Saturday Night, Sept. 15th, 7:30 PM, Ashtabula
Purchase Tickets in Advance for $15
$20 at the Door
Address of the House Concert and details will be sent to you by email after purchasing tickets.
Contact:
If you have questions or need more details,
contact Debbie Daniels:
banjodeb@att.net (440) 724-3239
Purchase Tickets
Ross Nickerson is an award winning banjo player with a successful extensive performing, recording, and teaching career behind him. He has performed nationally and internationally and held many banjo workshops abroad as well as at home. He has performed at such notable places as Opryland in Nashville, Tokyo Disneyland, and Silver Dollar City and has won the Telluride Band contest twice.
Ross is the author of best selling banjo book, The Banjo Encyclopedia, "Bluegrass Banjo from A to Z" and has written and recorded over 20 other Banjo Books and DVDs. As a signed artist with Pinecastle Records, Ross has recorded with many well- known bluegrass artists and appeared on compilation CDs with legends Earl Scruggs, Sonny Osborne and other top contemporary banjo players.
His latest CD on Pinecastle "Lets Kick It" features Ross's hard driving fast picking style with four members of one of the top US bluegrass bands "Blue Highway".

7 - Don't This Road Look Rough & Rocky
13 - You Cant Stop Me From Dreaming
---
Let's Kick It now featured on Renowned
Bluegrass Record Label Pinecastle Records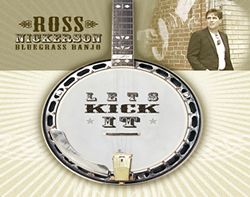 This "incredibly hot" banjo project must have been filled with jet fuel the way it took off after I started playing it …
Ross's new album is on fire!!! I listened on my car CD player and forgot which road I was traveling …
The disc IS incredible …
Every inch of Let's Kick It is exactly what its title implies, true heel-kickin' Appalachian joy, unrestrained delight in zesty melodies
i was amazed at how hard driving this Album is. It is a pure joy to listen too
There are two Nickerson originals featured and he proves to be as good a composer as he is a picker.
Here is is the latest release from Ross Nickerson. Accompanying Ross' hard-driving, blue- grass banjo are four members of the critically acclaimed bluegrass band, Blue Highway, Rob Ickes on dobro, Tim Stafford, guitar and vocal, Shawn Lane mandolin and fiddle and Wayne Taylor, bass and vocals.
This album full of well-known material, highlighted with unique originals that any fan of bluegrass music will enjoy. Keeping true to his forte, Ross has assembled a fantastic set of straight-ahead bluegrass classics featuring his creative, hard driving banjo playing as well as featuring four members of one of the best ensembles in bluegrass music today.
The CD was recorded and engineered in Nashville by banjo great Scott Vestal and features fast tempos, explosive solos and some great new bluegrass music.
Free U.S. shipping on all Ross' CDs
---

Let's Kick It

Blazing the West

Evolution

Ultimate Banjo

Live & Kickin' It

Christmas Gatherin'
Discounts on Multiple CD orders