Links for Banjo
Try these sites for many banjo related products and all kinds of lessons!

Visit my website
BanjoTeacher.com
Here is another link for the House of Plank website.
Bryn Williams aka Johnny Plank heads up this British banjo website. Sense of humor required
d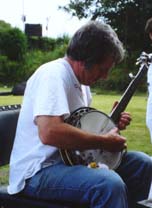 THE HOUSE OF PLANK

Banjo Strings

Beginner Banjos

Banjo Supplies

Banjo Instruction Books and DVDs

Reviews on Banjos, Banjo Instruction and other services
Banjo Newsletter Check out this site to BanjoNewsletter. It's a great site if you haven't visited yet

Huber Banjos Here is a link to Steve Huber's website. I recommend his tone rings and banjos.

Here's a link to a bluegrass and western band in Tucson, Az that I used to play with
Titan Valley Warheads

Bluegrass Band with Ross Nickerson

Cybergrass® - www.cybergrass.com
Over 11 Years of Promoting Bluegrass on the Net.
Providing Serious Bluegrass and Music Industry News.
Cybergrass News and Calendar are Syndicated.
Bluegrass Photos.com The best in photography of bluegrass music and musicians from Darwin Davidson and Mike Lane.

Directory of Banjo Instructors in the US, Canada, Australia and Europe
Worldwide Banjo Directory World Wide Banjo Teacher Listing
Spanish speaking too, from Brazil. Includes teachers from all over the world in many foreign countries.
Banjos setup by Kyle Smith Kyle Smith - The Specialist Setup electronically so it's a perfect as a stringed instrument can be.
Banjohangout.org Here is a link to a great banjo resource. Lots of lessons, links and information.
IBluegrass.com for the best in Bluegrass news on the internet

Here are links for some great banjo manufacturers

Nechville Banjos

Deering Banjos

Recording King Banjos

Morgan Monroe Banjos

Goldtone Banjos

More Links for learning bluegrass

http://www.southwestpickers.org New Mexico Bluegrass Association
www.centraltexasbluegrass.org Central Texas Bluegrass Association
www.SongsforHisPeople.org Norm & Trish Farnum - Family Gospel & Old Time Variety


More Banjo Website's

True West Magazine named Blazing the West the top Bluegrass CD
of 2003 in their annual Best of the West issue.

Country Music Television voted Blazing the West
one of the top ten albums of 2003.

The International Bluegrass Music Association named
Blazing the West one of the top 15 instrumental CD's of 2003.
Home • Store • Privacy Policy • About the Site • BanjoTeacher.com • Contact Ross