Transkriber 2.2 Disc for only 42.90. The download version is only 39.90 Now you can slow down banjo licks at half speed and transcribe music of any kind including jazz licks, banjo licks, mandolin tunes and other hard to hear at fast speed music. Shift speed with ease and transpose with this software for music editing and translating.
Slow it down and play along with the slowed down music without pitch change. It's available for either Windows or Mac.
Newest Transkriber 2.2 on Sale!

Slow down music so you can play along!!
Transkriber Software Version 2.2 is shipping!!
Windows Vista Compatible! (May require a settings change found on our Transkriber Support Page)
The official transcribing software of Guitar One Magazine.
Transkriber Version 2.2
Windows 98/ME/2000/XP/Vista and Mac OS 9 (not currently OS X native)
The ultimate tool for the banjo player trying to learn those hard to learn licks.
"Transkriber" Play along with any CD at a slow enough speed to really learn from. It's also the ultimate tool to learn those hard to get licks!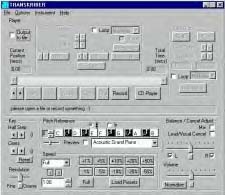 Play along with your favorite banjo CD's at a speed that makes it easy to learn from. Slow down all those hard to learn licks you've dreamed of learning without changing the pitch. That's right, slow it down and still play along without re-tuning. You can slow it down as much as 1/6th normal speed. Repeat hard to get parts over and over and more! This is the way to go for banjo players. Imagine being able to really hear that JD lick you want to get at a speed that doesn't pass by so quick that you miss it before it starts. Where was Transkriber in the old days when we were wearing grooves in vinyl records at 16 speed, trying to learn Earl. It's a great tool for learning, I highly recommend it and believe in it. It comes with a 30 day satisfaction guarantee.
Designed by top jazz transcriber Reed Kotler of Jazz Improv Magazine. This product has been used for the last four years by musicians ranging from novice to world class.
Who are some of the top name players, transcribers and producers that use the Transkriber? The Transkriber is the choice for many top professionals doing demanding work and needing great results.
The official transcribing software of Guitar One Magazine.
Transkriber is reasonably priced and easy to use! Window or Mac version available.

Download option currently out of stock.
Click here to buy Transkriber 2.2 by email download for 39.90
(The download option will save you money and time waiting for the disc. The download serial# and instructions will be sent to you as soon as I receive the order, it won't take more than 24 hours and often much, much quicker).
Disc option currently out of stock.
Click here to buy Transkriber 2.2 hard copy disc on sale for $42.90

Transkriber Reviews
..."Great product, I can hear things on the banjo I didn't even know existed Thanks." Tom Burton
..."Your software works great....I will and already have told many people about it...The new software sounds incredible."
Rufus Reid, world famous jazz bass player and recording artist. Recorded with Stan Getz, Dexter Gordon, many others.
...."this piece of software is an invaluable tool for my purposes (learning to play Chet Atkins tunes)...[another product] took 24 hours of processing on my 486 DX2-66 PC under Win 95 to produce a stereo, 44.1 KHz, 16 bit , ½ speed version of a 2 minute guitar solo – and would NOT permit multi-tasking. Your product is virtually instantaneous,
and the ½ speed playback is good enough to perform my task. I have already recommended your product to others who will undoubtedly purchase it."
Burt
..."Cool program!!..." Joe Wright, awesome steel guitar player I heard demoing at the NAMM show.
..."I did not make any exhaustive comparisons, but it seems to me that the sound quality of Transkriber is somewhat better [than a competing product that claims to have much better sound quality than the Transkriber does], e. g. for alto saxophone recordings (the instrument I play).
There is one big advantage to Transkriber: it processes files much, much faster. With your product, one can switch instantly from the original
speed to any other speed. With [the competing product], you have to reprocess the file which takes a long time." Toni Linder, Sweden
..."It's [transkriber is] a super program. I have been recommending it to every cyber-savy jazz musician I meet."
Paul Evoskevich Professor of Music/Director of Jazz Studies

The TR-1000 from Reed Kotler Music, A machine that slows down music and a whole lot more.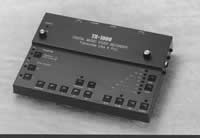 No longer available
Key Benefits
Brand new sound engine which has the most realistic slowed down music and clarity on very slow speeds. All percentages of slow down (no limit to how slow) and speed up (up to 2x) supported. Slows the music down/up keeping the same pitch.
Note grabber. You can now focus on single notes or chords within a larger section you are transcribing.
Remember functions. You can remember various sections or notes/chords for later review. These sections can be named .
Many useful features for playing along with slowed down music and/or learning a part directly from ones instrument. Too much to explain in one post.
Many methods for controlling slow down (or speed up of music). You can type in exact amounts, change the current setting by percentages, 1%, 5%, 10%, 20%, 50%. You can create your own presets or use our built in presets.
Transpose up/down by semitones and/or cents.
Continuation of our popular method of selection and modification of loops.
Vocal/Lead eliminator. This will substantially reduce the lead instrument/vocal on most stereo pop recordings. A more advanced version than in version 1.2. Great when you are trying to figure out a background part.
Left/Right balance and mixing adjustment for best clarity.
Fretted instrument control (windows only). Define any imaginable fretted instrument, # strings, tuning, doubling of strings (i.e. 12 string or mandolin), capo, bending notes, muted strings, chord creation, chord plucking, strumming, arpeggiating. Use this to try out chords, tunings, and such while transcribing. In conjunction with the notegrabber, you can quickly use this to figure out the exact voicing. We have a large set of predefined instruments but you can create and save your own.
Keyboard Control (windows only). Define keyboards with any number of keys or select from our predefined set. Play chords. In conjunction with the note grabber this can easily be used to zero in on the proper voicing.
Staff Control (windows only). Create one or two staffs. Define default key center and deal with transposition. This can be used to check notes or chords against concert pitch. Very intuitive and easy to use interface.
MP3 import. (windows only though soon on mac).
Support for machines with multiple CD players/sound cards.
Builtin CD ripper (windows only).
Adjust playback quality to coincide with machine strength.
Alternate slowdown for old machines
No longer available
About the TR-1000 Digital Music Study Recorder:...
"I think this is the best transcribing tool I've ever tried. The sound is clear, it's easy to use, it allows you to input a
decent number of seconds and I'm addicted to it. " S. Fefer, Canada
"I have received the Tr-1000 a few days ago and it is indeed a wonderful machine"
"... I have to say that Reed's TR-1000 is the single most amazingly useful piece of hardware you could possibly buy to help you transcribe.
... it is all you could possibly want and more. There is absolutely nothing extra you could ask for in a transcribing tool such as this.
Compared to other machines of its caliber it is also very reasonably priced. I tend to prefer hardware for musical type ventures, as my PC is
tempermental at the best of times, but if the Transkriber software is anywhere as good as the TR-1000, it is well worth the purchase." Aaron Robertson
No longer available
True West Magazine named Blazing the West the top Bluegrass CD
of 2003 in their annual Best of the West issue.

Country Music Television voted Blazing the West
one of the top ten albums of 2003.

The International Bluegrass Music Association named
Blazing the West one of the top 15 instrumental CD's of 2003.
Home • Store • Privacy Policy • About the Site • BanjoTeacher.com • Contact Ross